The word salary has been derived from the Roman letter "salarium" which was given to the Roman soldiers in ancient times in addition to the wages they were entitled off. The salary calculator is really helpful and vital to calculate and know the growth status of the employee and to estimate the additions and deductions which are being made by the employer in one's employee salary. The salary consists of various components and there is a difference between the gross salary received and the net salary received. An employee salary can be structured in the following manner:-
Basic Salary
House Rent Allowance
Transport Allowance
FBP Allowance
Statutory Bonus
Provident Fund
Income Tax
Insurance
A formula for Salary Calculator is given by:
Salary = Basic + HRA + Transport Allowance + FBP Allowance + Bonus – Provident Fund – Income Tax – Insurance
The salary component also varies as per the company's policies, some companies make some deductions other than this deduction whereas some companies do not make certain deductions in their salary. As per the Indian Labour law, we operate in cost to company model where there are most deductions in a salary if the person is employed under a formal sector whereas, informal sector employees can take away their full salary quota.
Salary Formula – Example #1
Mr. X. has a salary the following salary components. Calculate the Gross Salary and Net Salary of Mr. X.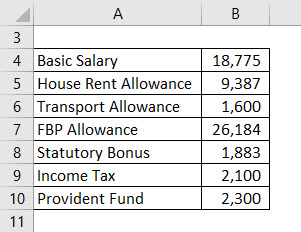 Gross Salary is calculated as: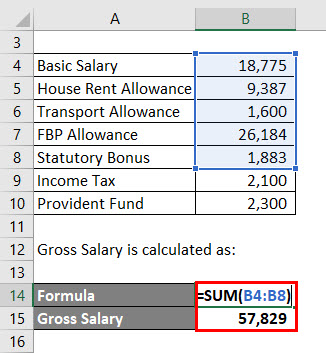 Gross Salary = 18,775 + 9,387 + 1,600 + 26,184 + 1,883
Gross Salary = 57,829
Net Salary is calculated as: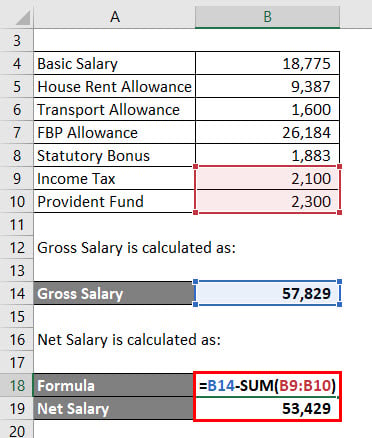 Net Salary = 57,829 – (2,100 + 2,300)
Net Salary = 57,829 – 4,400
Net Salary = 53,429
The Gross salary of Mr. X. is the summation of Basic, HRA, Transport Allowance, PBP allowance, and statutory Bonus which comes around 57,829 whereas net salary is computed as Basic Salary minus Income tax and Provident Fund which comes around 53,429.